1 Roundham Heights, a dog friendly apartment overlooking Goodrington Beach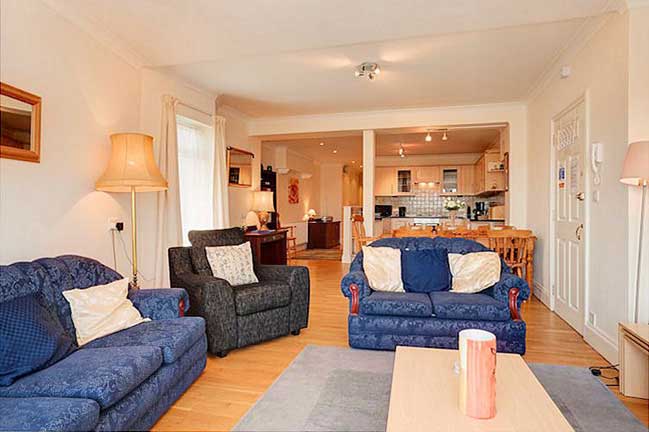 You'll find this ground floor, 3 bedroom apartment sleeping 6, in Roundham which sits in a very quiet area right between Goodrington Beach and Paignton Beach giving you peaceful accommodation with plenty of options for easy dog walking in Paignton.
You'll arrive at Goodrington Beach and Youngs Park after only a brief stroll (literally a few minutes) from the apartment. You can take your dog on the North Sands area of Goodrington Beach all year round but the South Sands area of Goodrington Beach is closed to dogs throughout the summer months.
If you don't fancy cleaning up a very sandy dog then Youngs Park is adjacent to Goodrington Beach and is plenty large enough to let your dog run free. The cafe in the park is a great place to sit and have a coffee (or something stronger) and there's also a pub with a large sun-drenched patio right at the centre of the beach.
If you'd rather just take a gentle stroll then Paignton Harbour and Paignton Beach (with its large sea-front green) are also only a short walk and from there the town and local shops are all very easy to get to on foot.
The apartment has gorgeous sea views from the living room and after a good days walking you'll appreciate the modest outside patio where you can sit in shade under the parasol and just chill.
You'll have no problems getting Fido to and from the car as the apartment has a designated parking space.
The apartment also caters for wheelchair users with ramp access and an en-suite wetroom including hand-rails.
Click for additional info, prices and availability for 1 Roundham Heights
OR
Click to return to list of dog friendly accomodation in Paignton
OR
Click here to check details on Trip Advisor